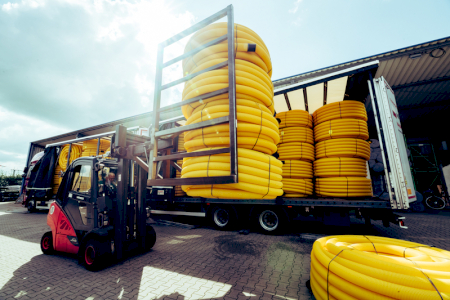 About us
The RBM Drain Filter GmbH was founded in 1969 as the Twistringer RBM Dränfilter GmbH & Co. KG and is considered a pioneer in developing and manufacturing drainage filters in Germany. as the most important producer of drainage solutions, our products naturally meet the KOMO® quality requirements.
RBM Drain Filter GmbH´s wide product range includes different drainage systems. The pipes range from short fixed with big diameters to long and flexible with smaller diameters. Depending on the intended application these pipes can be coated either with natural or synthetic fibers - just like our erosion control mats. The demand for both product groups is ever incerished due a rise in climate-related challenges. In addition, we supply coconut- filled waterlogs which are of great importance in soil bioengineering of shorelines and water banks.
Being a part of Roess Nature Group ensures RBM Drain Filter benefits from technological innovations from the affiliate company A.H. Meyer Maschinenfabrik GmbH, meaning RBM Drain Filter always works with state-of-the-art machinery. As a consequence, we can offer many advantages that are cherished by customers around the globe such as maximum flexibility on short-notice orders as well as the possibility of ordering unique, extra-long (oversized) drainage pipes.
Over 100 years of tradition:

From Meyer to Roess
As part of the Roess Group, we always benefit from the latest technological innovations of A.H. Meyer Maschinenfabrik GmbH in the processing of natural and synthetic fibers and that the production methods are always state-of-the-art. The resulting advantages in terms of flexibility and service are highly appreciated by our customers all over the world.